I'm back in Southern California working on cleaning out my mom's place again. I'm pretty sure we won't be done until at least the end of the year because there is so much stuff.
We had lunch with my favorite aunt and uncle, and my dad. After lunch my aunt told us stories about my mom — stories I'd never heard before. My mother never told us stories about herself. I always knew this aunt was her closest sister, but hearing about their lives together made me miss my mom, wish I'd made her tell me stories, wish I spoke Korean fluently, and made me realize once again how much my aunt loved her and still misses her.
I looked in vain for a good photo of my mom and my aunt when they were young. Then I decided I'd settle for any photo of the two of them, but couldn't find one in the stash of photos here. They're probably in my stash of mom's photos in San Francisco. But here's one of my favorites of my own sister. She and I weren't as close as my aunt and mom when we were younger, but we certainly are now.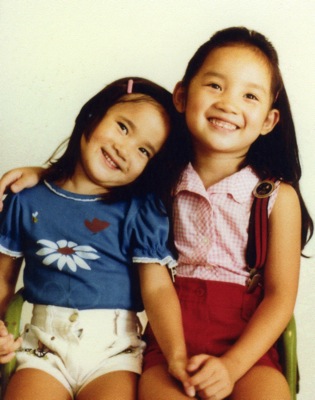 My sister and me: Elementary school years in Ohio