A long time friend of mine saw my Google chat status and said you're still going to CES?! No, well, ok, yes. I haven't been to CES in 11 years, but decided this was the year I would return to see their first Sports & Fitness Tech conference and to do a write up of my favorite existing and future fitness tech from CES.
I haven't been to Vegas in a long time. I think the last time I went it was to see Justin Timberlake in late 2007. That was fun. This was also fun, but much less debauchery. I had a really nice dinner with an old co-worker, drank a very conservative amount of alcohol, placed a $20 bet on red in roulette (and won :) and otherwise spent the time working. Which, oddly enough, was a nice change of pace for Vegas.
I guess it's been long enough that CES was exciting again for me. I didn't see the entire floor in all the halls, but it was mostly 3D TVs and cameras, wireless home systems, some touchless user interfaces (all still somewhat rough and imperfect), electric vehicles, health & fitness & mommy tech, and iPod/Pad/Touch accessories out the wazoo. I saw one session for software that lets you touchlessly control your computer using a regular webcam, but the guy was showing a video of it instead of demo-ing it live (it's not very convincing if you don't demo it live).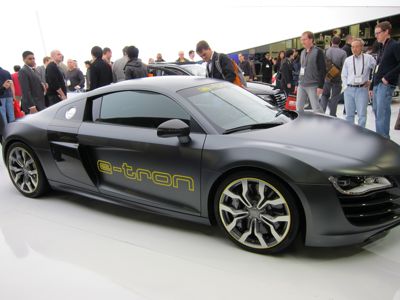 Audi's e-tron at CES 2011
I saw a couple of the glasses-less 3D tvs and they're cool, but they have such a limited range of view — you have to stand right in front of it in the center in order for it to work and it's still imperfect. The GE smart home wasn't as smart as I wanted it to be, but was interesting from an energy efficiency standpoint. With a little communication module for your energy efficient appliances, you could see, for example, how much each load of laundry costs you in real time. The smart meters utility companies are starting to install signal when prices are at the peak, low, or midrange so your washer won't run unless it gets the signal that it's the cheapest rate, and if that rate changes mid-load, it'll adjust itself to save you money. You can override this of course if you desperately need to wash something. And your city needs to have upgraded to the new smart meters in order to use this technology, but seeing the hard data like that all day long could really change your habits.
The thing I was most excited about was Omek, a gesture recognition engine that is faster than the Kinect and versatile. It's vendor agnostic and hardware agnostic. With any 3D camera and their engine + SDK, you could develop killer gesture recognition apps. They're working on a fitting app so home shoppers can virtually try on clothes. I'm so excited about that. My short little ass'll have an easier time finding clothes that'll fit :)