I got my bike back from the shop today and was so excited about taking it for a little ride, but I couldn't buy a helmet off the rack. They just don't stock them in my size! Plus I forgot that the registration sticker on it is from 2006 and even though it's legally registered, I seemed to have misplaced my 2010 sticker.
Since I'm in Southern California, I couldn't go to one of the gear places I know of up north to buy my helmet. I picked up my bike at Mission Motorsports in Irvine, but didn't get a chance to look at helmets while I was there because the tow truck driver was waiting for me (no helmet, no ride). So when I got home I checked on Yelp for a place to get gear near my place. Not a whole lot of options turns out. Which I find weird because in San Francisco alone, I can think of at least 2-3 places I can go to for gear, plus the Cycle Gear and Road Rider stores in San Jose. So based on reviews, I picked OTD Orange County Motorsports to buy my helmet, but the guy there (who was very helpful) said they had almost nothing in stock because they were waiting on new inventory. And nothing at all in my size. I thought my head was big, but apparently that's just wishful thinking cause I wear an XS.
I asked the guy at OC Motorsports where else I could go for helmets and he could only come up with Mission Motorsports (and he told me they got the new helmet models in before he did) so I went back there. I was really impressed with the girly helmets they have available now. And was turned onto Scorpion EXO which is a relatively new brand I'd never heard of before, but they make lots of nice looking women's gear including both pretty and badass girly helmets (very reasonably priced compared to a Shoei or an Arai).
Brooklyn at the Mission Motorsports was really helpful and I ended up with another Shoei helmet: the somewhat new RF 1100 (Sylvan TC-9). Seems to have gotten lots of good reviews so I can't wait to get it. I like that it's light in color, but not solid white like my old one. I wanted something with a little more style and flare this time — something sexier like this: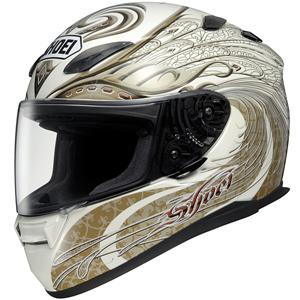 They didn't have it in the size or color I wanted/needed so I had to special order it. Hope to get it by Friday so I can go for a ride. All I want to do is go for a little ride. Just a little ride, mommy, please!