The 2nd to last day before my trip and I'm starting to get desperate. I made sure to do all my driving errands today because a) I hate to drive in the city and b) I cannot make another freaking run to REI this week because if I do, I'll stab myself.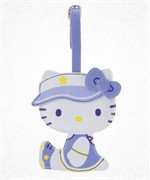 I was at REI earlier today (twice! I think I lost an earring there so I had to return to try to find it) and completely forgot to get the luggage tag I meant to get there. So I was forced — against my will — to get a Hello Kitty luggage tag at the mall (I tried the travel store but they didn't have any cheaply priced luggage tags).
I also forgot the Glide at Sports Basement (where I was also at this morning) and was forced to try to find it at the mall (the SF mall is right next to my gym so easy access). I went to Footlocker and Lady Footlocker and asked for Glide and everyone wrinkled their noses at me. I knew what they were thinking. I wanted to tell them, "It's for chafing. Not for sex!" but I refrained. Seriously though, I don't know why Glide is not more commonly recognized. It's sort of like an active person's fix-all.
So now I have my Hello Kitty luggage tag. And plenty of Glide. Oh, and I went to BevMo to stock up on little tiny bottles of alcohol we can fit into our quart sized Ziploc bags for the flight. Really, I think that's all we need. Next up: traveler's checks and a flight to Bangkok!