Anyone who says yoga is easy isn't doing it right. One of my preparations for my Laos trip (in 2 weeks!) is to get a yoga routine down so I can have some form of exercise I can do while I'm away. I figure gyms are out of the question, and I'm not sure how much running I'll get in so yoga is a good no equipment necessary, can do anywhere kind of workout.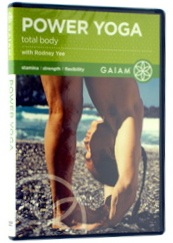 So I bought this DVD: Gaiam's Power Yoga Total Body DVD with Rodney Yee. I would've preferred a female host or at least a video instructor who didn't vaguely remind me of my ex, but my options were very limited. I wanted an hour long total body workout and thought any yoga without "power" in the title might be too easy. This seemed perfect.
After four hours of sleep, a six hour drive, one meal for the day followed by a one hour nap, I thought it might be a good time to try out the DVD for the first time. My plan is to do it every day until I leave so I get used to the moves. I was wasted — not drunk wasted, but not at the top of my physical form. And the DVD killed me.
Every time I went from a Standing Forward Bend to a Mountain Pose, my head got light, I saw stars, and I seriously thought I'd pass out. And there was a lot of that in the beginning of the DVD. That was followed by several poses I'd never done before. I've only taken yoga probably less than 10 times before. I was sweating, uncomfortable, and hoping desperately it would end when I'd only been at it for 20 minutes. At one point I thought I broke something in my shoulder — doing an Upward Bow which I wasn't quite prepared for.
But I made it through to the end. One day down…14 more to go then I'll be doing yoga next to the Mekong River!
Tags: working out, yoga