Right after I left Google, I got a job writing for examiner.com as their Fitness Tech Examiner — a natural combination of my tech savvy and the writing I was already doing on my personal health blog. But almost as soon as I got it, I began to regret it, thinking it was cutting into my creative writing time. It took so long to write my first few articles. I did a lot of research and testing of tools and applications, and I only managed to write about 13 articles before I called it quits and took two months off. Plus I was making so little money. The pay rate is roughly a penny a page view and unless you publish regularly and get a lot of traffic, you're literally making pennies a day. But writing for the examiner.com has been an interesting experience from a writer's point of view.
News comes to you
I hadn't been writing for very long when I started to get publicists emailing me to pimp their clients' products. It was great because it took some of the leg work out of it for me — instead of searching out new things to write about, people were actually coming to me and basically giving me news to write. I tend to try to keep my personal opinions out of my articles (I save those for my personal fitness blog) so I'll write about (almost) anything fitness tech related including gadgets, apps, online tools, etc. It's been an interesting non-fiction writing experience in this way.
I've always known companies have marketing departments, but I never knew publicists reached out to writers to spread the news. I wonder now if this was always the case or if the current internet environment where anyone and everyone can have a say has encouraged this type of grassroots marketing. I saw recently that Heather Armstrong of dooce.com tweeted about her bad experience with Maytag (after a futile struggle with them to fix her new machine) which 1. got her issue resolved immediately and 2. had Bosch offering her a free machine of her choice (which they ended up donating it to a charity instead). Armstrong has a massive audience, but you get the picture of what's possible.
I'm writing again
So examiner.com changed their payment policy recently so that if you don't publish in 30 days, you don't get paid until you publish again. This actually makes sense because it builds credibility for you and for them. Because of that I'm writing again (my favorite new post: tongue patches to lose weight!) but I have a different method. I'm a wiser non-fiction writer now. I have google news feeds set up (where I get my own articles sent to me after I publish them because they fit my search criteria), I scan all the relevant sites. I do a little bit of research, but am not going to spend days researching an article anymore. Publish more, work less. Sounds good to me.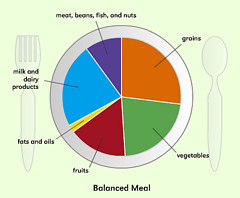 I usually add photos to each of my articles that I find under the Creative Commons license for commercial use on Flickr and this is my favorite recent image. It's a nutritionally balanced plate of food by Nourish Interactive, a fun looking site to learn about nutrition for kids, parents, and educators.
My fear that writing all this non-fiction would eat away into my fiction writing time turns out to be unfounded. Actually, I've found that the more I write — of anything — the more I want to write. Turns out that writing for the examiner.com and my other blogs is good for me. Instead of giving me less time to write fiction, it gives me more motivation to write stories.