I finally opened The Pains by John Damien Sundman (aka John F.X. Sundman, John Compton Sundman). I ordered the book in mid-March so about 4 months ago. When I opend the front cover, I was surprised to see this: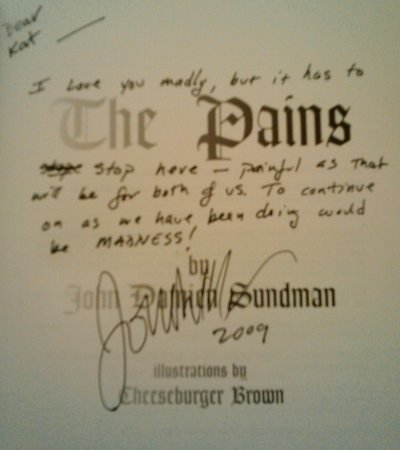 "Dear Kat – I love you madly, but it has to stop here — painful as that will be for both of us. To continue on as we have been doing would be MADNESS!"
Then I remembered that in the order form you got to write the inscription you wanted Sundman to write when he signed the book you ordered. This idea fascinated me so I requested "Dear Kat, I love you madly." Thinking how funny it was to make someone you don't know tell you they loved you madly.
I love what Sundman did with it. And I'm glad I waited so long to open it just so I could be surprised by it.
The book starts off with a) a bible verse, b) quote from an IEEE Technical Committee, and c) a definition of sigint. In short, geeky. It's hilarious so far and I haven't gotten that deep into it yet. It's also licensed under a Creative Commons license and is available for free to read by chapter (though you miss out on the great graphics).