I love the Swiss. There's a lock box in my closet for valuables (not that unusual), and a skeleton key to lock my closet (I've never seen that before). I used a porta-potty yesterday and it had a) a sink, b) it flushed, c) it had a trashcan and d) a toilet brush to clean the toilet (the only thing missing was soap). The bathrooms at work have (in each stall!) some sort of purifying cleanser for you to wipe the toilet seats down with. I love it when a country understands my need for cleaniness and sterility.
I'm staying at the Romantik Hotel Florhof (don't make the mistake of thinking the first two descriptive words are actually part of the hotel's name — the shuttle driver that took me to the hotel from the airport chuckled at me when I said its full name, and all he repeated was the "Florhof" part of it). The service here is amazing. I called on Sunday night to say the LAN wasn't working for me. The guy wasn't especially helpful saying I should come to the lobby and use the public computer. But in his defense, he did say it was late and no one was around to fix it (it was near midnight), and b) at least they had a public computer for me to use should I be desperate. I did find one open wireless network with enough signal strength to do what I needed to do. The impressive thing was that the next morning, someone came up to my room to ask me about my internet connection and said she'd have someone look into it. And it was fixed when I got home.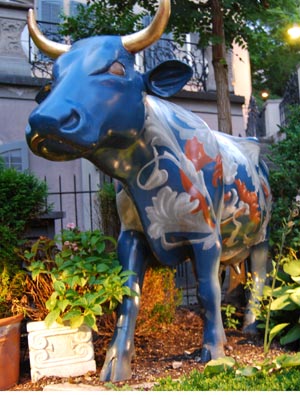 I love the switch near the front door that turns on and off all the electricity to the room — no fear of leaving something on all day. I love the inviting spaces in the hotel where I can have a drink at night and read. This bull is in the courtyard where I sat tonight for an hour or so after work til well after dark. The weather is a bit rainy, but it's still relatively warm.
There's something about being someplace new and realizing the things you take for granted — like knowing how to cross at a crosswalk — at home are things you need to relearn elsewhere. And maybe I'm simple and easily amused, but I enjoy the novelty of it all — the feeling of not always being entirely sure of myself. I've been in other parts of Europe — Germany, France, Czech Republic, Netherlands, but nowhere have I felt as inconspicuous as I do here. Maybe it's because I can get away with speaking English, but I think it's more than that — it's really diverse here in terms of languages spoken and nationalities floating around — more diverse than anywhere else I've ever been.
Everywhere I've eaten today there's been fresh, yummy, whole grain bread. It's a little bit like heaven. And the Zurich office is as good as I've been led to believe it was. The fire poles are a thrill, and the water room is luxurious and relaxing — I slept off a little jet lag in there today :)