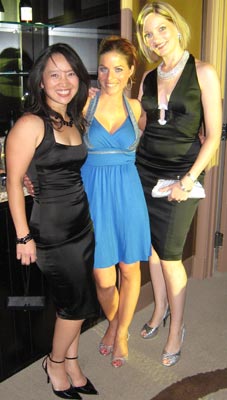 Vegas is lights, slot machines jingling 24/7, hot women dressed in their sexiest clothes, guys trying to impress, drinking, smoking, dancing like strippers, and money blown like there'll be no tomorrow. This is good for three days tops. In fact, a three day visit is the ideal length of time — you have at least two full nights of partying, plus a possible 3rd if you're hardcore (which I'm not). This gives you enough time to enjoy the pool, gamble a bit, try out various restaurants, and still have enough time to rest a bit before each evening's outing. I didn't actually do much of any of that because I spent each day recovering from the night before — not in a sick kind of recovering — more a relaxed, sleep all day kind of recovery which was nice.
I was looking around me at the fascinating mix of people this weekend. It doesn't matter how beautiful you are, there is always someone hotter, thinner, and younger than you in Vegas. Look at us — three cuties about to hit the town, and none of us could stop ogling the other eye candy around us — mostly women because as one cab driver said, Vegas is a place where women wear their sluttiest clothes and don't look slutty doing it (well, he said something along those lines anyway :)
I thought Justin Timberlake said something clever when he said who came up with this idea that what happens in Vegas stays in Vegas? He said he was from Tenneesee and what happens in the backwoods there should stay there, but this shit that goes on in Vegas — everyone should know about that. The next night, I'm in a cab and the driver's telling me how this thing about what happens in Vegas should stay in Vegas was the best thing ever — cause the girls just go crazy out here. I don't know what exactly "crazy" means to him, but for me it's letting go just a little — wearing the clothes I hardly ever wear at home, not being embarrassed about being drunk out of my mind, and dancing with my skirt hiked up to my ass with Ineke. That's Vegas.
Favorite quote from this trip: She's a classy broad. That's why we bring her with us.
Recommendations from this trip: