I was driving home from Target last night after buying a new frame for my mom's photo and some candles and every song I heard on the radio made me think of her and cry. "You're so beautiful, it's true…And I'll never be with you…" I can't remember the lyrics of the other song that really got to me, but they were similarly poignant.
We were in the truck driving to Tahoe today and we started into a curve in the road just a little too fast and Mike said, No, death. Just say no to death. And the way he said it made me laugh! But I was thinking, too, that my mom should've said no to death. No, death, no.
My sister took a photo of a photo with her cell phone and emailed it to me last night. I wanted to post it last night, but fell asleep before I could.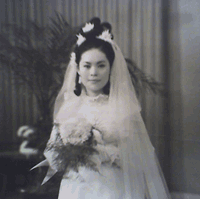 Mom's Wedding (I guess early 1970's)
Tags: mom, old photos