We're on our yearly Tahoe trip. I was at the Google ski trip dinner last night and all of a sudden was thinking about my mom and tearing up at the table. I've kept it together pretty well and I kept myself in check last night, and normally I can get through the day like anyone else, but sometimes an unexpected spike of grief'll hit me and make my throat tighten.
I have a portable memorial that I created for the trip. A little wooden box with a small photo of her in a frame that my uncle gave me (a small version of the one we used at the funeral), a small cross, some tiny, fake pink roses I found in my room, a pink cloth to set underneath the photo, and a small candle holder and candles. My sister brought up some more pictures of her when she got here and she laid them around the little photo and candles I'd set up. I'll scan them in and post them when I get back to Irvine.
I miss her, I think about her all the time.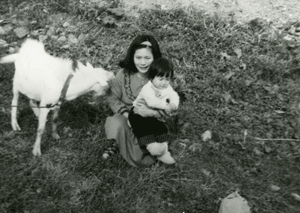 My mom and me with a goat. Korea.
Tags: mom, old photos